1947 Ford 2N Farm Tractor Restoration Project
Engine rebuilt
New liners, pistons, & rings
New rod bearings, seals, & gaskets
All new valve train
New rad hoses & clamps
New fan belt
Shifter boot
New battery
New muffler / tail pipe
Serviced carburetor
Serviced air filter (completely)
Serviced starter

Serviced generator
Serviced distributor
New plugs & plug wires
New wiring harness
New steering wheel
Clutch serviced
Brakes serviced
New ignition switch
New lights & switch
Primed with good industrial primer
Painted with good industrial enamel
All new decals
A little Ford 9N, 2N, & 8N tractor history including some of their differences.
Ford tractors changed dramatically in 1939 when over 10,000 9N tractors were sold in the first year of production. The model, 9, 2, then 8 reflect the year that model came out in the show rooms ... 1939 for the 9N, 1942 for the 2N, and 1948 for the 8N. Here's a list of Model number, production years, serial numbers and the number produced.
Note that all 2N serial numbers started with 9N.
| | | | |
| --- | --- | --- | --- |
| 9N | 1939 to 1942 | 9N1 to 9N89888 | 89,888 |
| 2N | 1942 to 1947 | 9N99047 to 9N306221 | 207,174 |
| 8N | 1947 to 1952 | 8N1 to 8N524076 | 524,076 |
There are many significant differences when it comes to the 8N but very few between the 9N and 2N. A few to note are: the 2N went to a three spoke steering wheel with hard rubber outside and uncovered spoke, a pressurized radiator, standard 10x28 rear tires, and radius rods are oval not I-beam (after 1944). The front Ford emblem has a tiny 2N stamped in the bottom center, the hood side pieces had an accessible bolt at the bottom where it bolted to the new pressed steel rad and front axle support (previously it was cast), the grill was changed to have four center slots, and the oil filter return line was rerouted to the governor for added lubrication.

One of the other main differences with some of the 2N models was, because of the war measures, they were not allowed to use rubber therefore Ford used steel wheels. Also some of these tractors had a magneto and no battery or starter, only a hand crank. Henry Ford soon convinced the government that these tractors were essential for farming and he was then allowed to go back to using rubber and batteries.
Here is a copy of the original "War Time" bulletin, put out by Ford, that covers; starting and stopping, steel wheels, magneto, and the idler pulley used because there was no generator. Click the image to download a four-page PDF copy of the bulletin. Special thanks to Mike Currier for donating this special memory.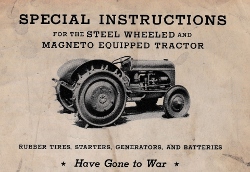 Below are some photos of the 1947 Ford 2N tractor being rebuilt. All photos enlarge if you click on them.